LONDON
Main office hours for information
90 Bennett Circle
Mon-Thurs 8:00am-5:00pm
New Student Orientation
90 Bennett Circle
Mon-Thurs 9:00am-6:00pm
Main office hours of operation
Mon-Thurs 8:00am-8:30pm
READ KY (for adults who want to improve their reading)
Mondays and Wednesdays 10:00am-7:00pm
CORBIN
103 Northside Plaza (near Kentucky Fried Chicken)
Hours of Operation
Mon-Thurs 9:00am-7:00pm
Reading Café (Corbin)
Tues-Thurs 10:00am-7:00pm
Orientation
Mondays at 9:00am or 4:00pm
East Bernstadt Middle School
Tuesday and Thursday nights 6:00pm-8:00pm
English as a Second Language
90 Bennett Circle
Call Lindsey LaBore or Jerri Patterson for more information.
We have much to offer...
Laurel County Adult Education and Literacy has a variety of services available in Laurel County to assist our citizens in achieving their personal, educational, and vocational goals. Our services are provided without charge to the learner. Services we offer throughout the county are:
GED Preparation
Reading Skills and Comprehension
Kentucky Employability Certificate
English as a second language
Distance Learning
Youth Program (16-21)
Impact
College Counseling
See all our services...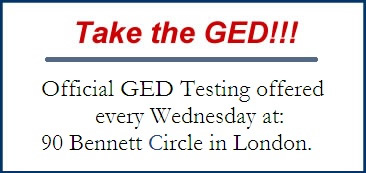 90 Bennett Circle * London, KY 40741
606.878.9134
103 Northside Plaza * Corbin, KY 40701
606.528.0379